Whether you loved the book, hated the book, or just need a good laugh, check out these parody novels. Can you guess which novel is being imitated?
The hit science fiction novel series gets the Papercutz Slices parody treatment, right before the release of the big-budget film adaptation! All three books from "The Hunger Games" trilogy get sliced up by parody team Rick Parker and Stefan Petrucha, who refuse to pull any punches in this comedic romp.
A parody in three acts--"The Novice Bird" (easy recipes for roasters), "Falling to Pieces" (parts perfect for weeknight meals), and "Advanced Techniques" (the height of cooking)-- Fifty Shades of Chicken is a cookbook of fifty irresistible, repertoire-boosting chicken dishes. With memorable tips and revealing photographs, Fifty Shades of Chicken will have you dominating dinner.
Anna Steel is young and naive. Her roommate is an alcoholic. Her best friend is a beefcake with a My Little Pony addiction. This unlikely trio are stumbling toward adulthood when dangerously rich deviant Earl Grey enters the scene, whipping everything into a farcical frenzy involving a Walmart-shelf-like variety of erotic role-playing. An unbelievable set of characters in even more unbelievable circumstances poke fun at both the Twilight and Fifty Shades phenomena. From characterization to language, mocking is the name of the game.
About three things I was absolutely certain. First, Edwart was most likely my soul mate, maybe. Second, there was a vampire part of him-which I assumed was wildly out of his control-that wanted me dead. And third, I unconditionally, irrevocably, impenetrably, heterogeneously and disreputably wished he had kissed me. And thus Belle Goose falls in love with the mysterious and sparkly Edwart Mullen in the Harvard Lampoon 's hilarious send-up of Twilight.
A retelling of Star Wars in the style of Shakespeare, in which a wise Jedi knight, an evil Sith lord, a beautiful captive princess, and a young hero coming of age reflect the valor and villainy of the Bard's greatest plays.
It's bedtime in the cold gray tomb with a black lagoon, and two slimy claws, and a couple of jaws, and a skull and a shoe and a pot full of goo. But as a little werewolf settles down, in comes the Goon determined at all costs to run amok and not let any monster have his rest. A beloved classic gets a kind-hearted send up in this utterly monsterized parody; energetic art and a hilarious text will have kids begging to read this again and again.
In the bright buzzing room, it is time to power down. Here is a modern bedtime story about bidding our gadgets goodnight. Don't worry, though. They'll be waiting for us, fully charged, in the morning.
Had anyone told Alice Bell that her entire life would change course between one heartbeat and the next, she would have laughed. From blissful to tragic, innocent to ruined? Please. But that's all it took. One heartbeat. A blink, a breath, a second, and everything she knew and loved was gone. Her father was right. The monsters are real. To avenge her family, Ali must learn to fight the undead. To survive, she must learn to trust the baddest of the bad boys, Cole Holland. But Cole has secrets of his own, and if Ali isn't careful, those secrets might just prove to be more dangerous than the zombies.
"One morning, as Gregor Samsa was waking up from anxious dreams, he discovered that he had been changed into an adorable kitten." Thus begins The Meowmorphosis --a bold, startling, and fuzzy-wuzzy new edition of Franz Kafka's classic nightmare tale, from the publishers of Pride and Prejudice and Zombies !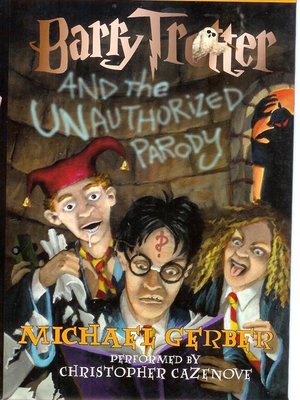 After someone sells directions to the school to a sleazy Muddle tabloid, Barry Trotter, Ermine Cringer, and Lon Measly are hauled out of retirement to face their toughest challenge yet. Not only do the 22-year-olds have to elude packs of rabid fans, outwit Barry's sponging Uncle Sereous, and vanquish their old foe Lord Valumart, they have to face the most powerful enemy of all: Hollywood! This book is funny and sharp, but not merely funny and sharp: in its bratty way, Barry Trotter is as energetic and imaginative as the books that inspired it.
For fans of AMC's The Walking Dead, Max Brooks, and all things zombies, the clever creators of Fifty Shades of Chicken hack a new parody cookbook filled with snacks for every occasion, tips for cooking under duress, and a love story that will send ripples down your spine--all accompanied by food photography that will ignite your palate.
Pride and Prejudice and Zombies
(Pride and Prejudice and Zombies, #1)
Grahame-Smith, Seth
TF Grahame-Smith
A mysterious plague has fallen upon the quiet English village of Meryton--and the dead are returning to life! Feisty heroine Elizabeth Bennet is determined to wipe out the zombie menace, but she's soon distracted by the arrival of the haughty and arrogant Mr. Darcy.